Welcome to Beck Antiques & Jewelry. I hope you enjoy browsing our stores and websites for antiques and historical treasures.
I assure you that our stores are packed with the finest treasures from around the globe. Please feel free to window shop and be amazed.
CPPA President & Founder
CPPA Antiquities Estate Appraiser President Wild Rose Antique Collectors Society Vice President Military Collectors Club Edmonton Director Edmonton Numismatic Society
As a boy some of my favorite memories were visiting beautiful Antique Shops in Vancouver. I always dreamed of one day having a store of my own that would amaze all who visit. I hope my life's work pleases you and fuels your imagination and collecting interests. I have been hunting treasure my entire life and I hope you enjoy looking at these amazing historical artifacts as much as I do.

We are on the lookout for the following objects.
If you have any of these treasures, please let us know and we would be happy to give you an appraisal.
Artwork | Books & Documents | Cameras | Canadiana | Carvings | Clocks & Watches | Coins & Stamps | Diamonds & Gems | Flags | Historical Artifacts | Ivory & Bones | Antique Maps | Medical & Scientific | Militaria | Oddities | Old Autographs | Silver & Gold | Swords | Taxidermy / Fossils | Toys | Victorian | Oil & Gas Cans Pump
My personal favorite treasures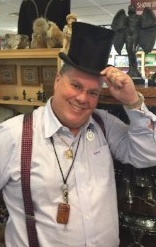 Clinton Beck
President & Founder
Cell or Text: 780-966-1930