Our online appraisal program makes getting an appraisal easy no matter where you are located.  Simply send us photo's and answer the questions and we do the rest.
Clinton Beck Antique & Treasure Appraiser and his team of experts will appraise your treasures.


We are on the lookout for the following objects.
If you have any of these treasures, please let us know and we would be happy to give you an appraisal.
Artwork | Books & Documents | Cameras | Canadiana | Carvings | Clocks & Watches | Coins & Stamps | Diamonds & Gems | Flags | Historical Artifacts | Ivory & Bones | Antique Maps | Medical & Scientific | Militaria | Oddities | Old Autographs | Silver & Gold | Swords | Taxidermy / Fossils | Toys | Victorian | Oil & Gas Cans Pump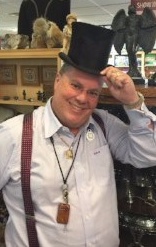 Clinton Beck
President & Founder
Cell or Text: 780-966-1930