Check out our customers' testimonials and why they love Beck Antiques & Jewerly. We'd love to have you as a happy customer too.
After being informed by People's Jewellers that a minor repair to my necklace would cost over $100 (!!) I came into Beck's store on the enthusiastic advice from a friend. The necklace repair cost a mere $20 and the accompanying conversation was worth a lot, too. Thank you for your kind service, and see you again soon!
This literally is the best place I have ever been to for everything. Mr Beck has an amazing store with the most unique items you will not find any where else. Great service and quality workmanship! You just have to check it out you won't be disappointed.
It was a pleasure doing business with [Beck Antiques & Jewellery]. I finally took my silver scraps in to sell. Not only did I feel I set a fair price for it but I walked out with the cash. Certainly less of a hassle than mailing it out somewhere — paying what would have been a considerable amount just for shipping. Very professional & friendly service. I highly recommend doing business with [Beck Antiques & Jewellery]
Clinton never ceases to amaze me at the range and depth of his knowledge on all things old and dusty. He's my first source on many subjects, especially military, and my first recommendation for buyers and sellers. Say "Hi" to Luigi from me!
I had the absolute pleasure of dealing w Clinton Beck this past December discussing a few different things before I purchased a diamond ring from him with great confidence in its quality and value. I sincerely appreciated his time and knowledge with his ability to answer all of my questions with clarity and patience especially since I wasn't sure exactly what I was asking. Comparing price and quality, it seemed he was second to none and I would highly recommend to anyone that if in the market for diamonds, silver or any precious metals, Clinton be someone you heed advice. The entire experience was uniquely positive and I look forward to our next transaction especially once the price of silver rebounds. I will not hesitate to look to him with any questions or advice and I consider Clinton to be 'my guy' and first contact in this regard.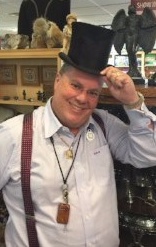 Clinton Beck
President & Founder
Cell or Text: 780-966-1930