Our antique image gallery hopefully will inspire you.  My stores are very unique in design.  They transport you back in time and are chalked full of amazing historical treasures and antiquities.  You will find art, sculptures, militaria, coins, currency, jewellery, furniture and treasures beyond the imagination.

We are on the lookout for the following objects.
If you have any of these treasures, please let us know and we would be happy to give you an appraisal.
Artwork | Books & Documents | Cameras | Canadiana | Carvings | Clocks & Watches | Coins & Stamps | Diamonds & Gems | Flags | Historical Artifacts | Ivory & Bones | Antique Maps | Medical & Scientific | Militaria | Oddities | Old Autographs | Silver & Gold | Swords | Taxidermy / Fossils | Toys | Victorian | Oil & Gas Cans Pump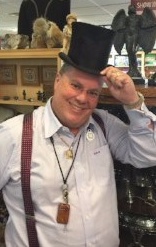 Clinton Beck
President & Founder
Cell or Text: 780-966-1930